Churchill College Boat Club at Henley Royal Regatta 1996
The Temple Challenge Cup at Henley Royal Regatta was our last race after the successful college May term we had enjoyed. Since we didn't get prequalified unlike Magdalene BC men's 1st did because they went up 3 in the May bumps to 3rd in the first division, we had to qualify for one place in about 30 entries among 78 contenders. Thanks to Kath Stott we were very organised and had months ago cleared our diaries free from all distractions, be they May balls or holidays. This wasn't as difficult to negotiate as might sound since everyone in the crew had been to Henley Royal before only to fail in the qualifying race. We knew what it would take and were very anxious to qualify. So the next 3 weeks after the bumps we spent ploughing up and down the Cam in preparation for the qualifying race to be held on the Friday evening before the races began the following Wednesday.
Henley-on-Thames is a magnificent place for rowers and just to participate in the qualifying race is worth the three hours drive from Cambridge. Arriving there makes you feel tiny due to the presence of all these huge professional athletes all of whom are well over 6 feet tall, me being 5'11". Anyway, we qualified and were exhilarated as well as relieved. Usually our strength was that we were so afraid of losing that we'd be able to pull a win out of the hat when faced with fairly formidable challenges. However, this time I was seriously afraid that we might not qualify as some of us had expressed that they had troubles getting psyched up for perhaps our very last race in this squad. The regatta was held the following week from Wednesday until Sunday. Other Cambridge participants were Caius, Magdalene, Lady Margaret and 1st and 3rd Trinity as the only college boats that qualified or to be preselected to the regatta. We drew Imperial College B as our competitor for our first race and thought "bugger!" IC (from London) is a big boat club and very strong illustrated by the fact that their first boat won The Grand Challenge Cup at Henley. They had boats entering for several of the other events at HRR. We only had our eight for The Temple Challenge Cup. However, it wasn't even their second boat we were going to race but their development squad. So the word on the street was that on paper we might hypothetically stand a theoretical chance.
We came down to Henley two days before the start of the regatta on the Monday to train on the river. We stayed at a camp site just outside the little town. It was a nice cosy place which gradually transformed from a place with sleepy campers into a more and more busy site with small tents in which people transformed from being casually dressed in jeans and trainers into ladies and gentlemen in strict accordance with the regatta tradition. Henley is a very posh place. Many of the houses look like small castles from the road and there were probably more Porsches and Jaguars than any other car brand on the streets.
On the very first day the regatta began we could hear the commentator from the distant speakers which are spread all along the river bank. The races starts already at 9 a.m. Our race was in the evening and we were all careful not to waste energy walking about too much. So we took long naps in the afternoon and ate our standard boatie food: tuna, banana, maltloaf and bread. I guess we went down to the regatta at about 4 o'clock. As the tents with our boat was a 30 min walk away we all drove to the competitors parking lot to save ourselves from wasting energy. We then went to the cafe for competitors and where we met Sue Brown, one of our coaches. She was quite merry if not a little tipsy, but nevertheless quite encouraging. People in our crew were beginning to look anxious as if they were to go to the dentist for a root canal treatment without anaesthesia. I suggested people to enjoy it. At least that's what the college bumps races had taught me. Of course there is a fine line between enjoying a race and not taking it seriously. But I didn't feel I crossed it. Our boat man Jim Cameron came there as well as did our boat club president, Jack Miller and his wife Marcia. All dressed up according to the regatta tradition. Together with Sue they all got seated in the big launch with the umpire that followed us in that race.
Half an hour prior to start we went out on the water warming up. The two previous days waterwork spent here proved to be worth it. We were now used to the environment and could focus our attention at the task at hand. We rowed almost down to the lock downstream of the Temple island where we spun our boat and did two starts I think. By then the adrenalin was seriously tickling in my fingertips. The 2100m course takes about 6 to 8 minutes to race depending on the conditions. Each race is followed by a launch with an umpire and coaches or other private members from the two racing crews. The race is commentated continuously and broadcasted from many loudspeakers along the race course. So although you cannot see the race until it is within a few hundred metres from where you stand you definitly feel the thrill when the speaker calmly announces: "At the Milepost Eton is now... even with Oundle. Both crews have raised their rating to... 39...................At the Regatta enclosure Oundle have raised their rating to 41 and is leading Eton ..... by a canvas!"
Absolutly poised to the combat we moved up to the start without looking at our opponents. We were very confident about our starts and knew that this was where we were gonna get them, if ever. So off we went and gained steadily and had clear water at the Barrier, I think. As was the case during all of the May term we were always very fast of the start. However, IC set in a massive push somewhere at the Milepost and we only led them by a quarter of a length somewhere having had a few spanner strokes. Anyway, coming past the regatta enclosure we started our push for home and ended up by winning with ¾ of a length! Sitting in the bows of the boat I was the first one to cross the finish line and in the split second coming past the post at the finish I realised that I was actually enjoying the pain like never before. Warming down from the race we rowed under Henley bridge and spun. Rowers from Magdalene BC men's 1st were standing on the bridge and cheering at us which was a nice surprise given we had been chasing them in the Mays races three weeks earlier.
That victory made my day(s) for quite some time. Especially because of ICBC's reputation I felt it was an outstanding achievement. The last time Churchill won a race at Henley was ten years ago I was told. So in our small universe we made history.
The other colleges from Cambridge were more or less annihilated by their opponents. Lady Margareth, Magdalene, Caius and 1st and 3rd were all beaten either with the humiliating verdict "Easily" or by several lengths by their opponents which mostly were non-Oxbridge university crews. We were lucky with our draw to some extent.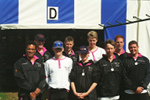 The evening meal which had meant to be a celebration proved instead to be a trigger of contention. Everyone having cast aside their individuality for about 3 months now felt a huge relief as mission was acomplished, sort of. People instinctively just wanted to do their own thing. But we had a formidable challenge racing next day as we had been drawn against last years winners of the Temple Challenge Cup: Oxford Brookes University A. So we were in two minds (or possible nine) whether to continue to take our participation seriously or not. So for about two hours we walked around aimlessly in Henley squabbling over what to eat and whether just a temporary suspension of our self-imposed alcohol ban would be an irredeemable betrayal given all odds were against us for tomorrows race.
The next day in the evening we were soundly beaten by Oxford Brookes. They drew away from us immediatly from the start even before either crew had finished their race wind up. For our pride's sake they beat us only by 1¾ length (i.e. not "Easily") and they were first beaten on the Saturday, the fourth day of the five days HRR lasts. That Thursday was the last time we rowed in Smart Alec under Kath Stott's captaincy. Pulling Smart Alec into the pontoon piers next to the competitors boat tents one of the regatta officials came by and discretely removed the empacher number off the bow from Alec. We were now dismissed from HRR 1996. We started derigging Alec and putting the blades aside.
A Churchill BC alumnus, J.S. Thompson, came by and congratulated us for our performance at Henley and said we shouldn't be unhappy with our achievement. After all, making it to the second round at Henley Royal Regatta as a college crew is very good and had we gone on to win it that wouldn't just have been outstanding. It would have been unimaginable. He was right in saying so. But given most of us had noviced only last year and had yet to be bumped in college bumps races, we were rather gullible at the time. I for one certainly could not reconciliate myself with that last defeat for quite a few months afterwards. Losing a race had never been an option for us and was considered tantamount to sacrilege. That Oxford Brookes A was in a very different league compared to even the best Cambridge College May VIII just didn't register with most of us. We began our departure. The national anthem was playing in the background signaling the end of Thursday's races and symbolising the end of the season for our crew. It was almost getting cheesy but we got very emotional and some crew members were even sobbing. Stef, Kath and I returned to Henley on the Sunday to pick up the trailer with Alec and the oars. We had a good time watching the finals of the regatta now dressed in proper attire instead of lycras. Goldie stomped on Leander in the final for the Ladies Plate. Quite a spectacular race and that was it.
Although I've raced at Henley Royal Regatta with faster crews since then that Churchill men's 1st VIII from 1996 will always mean something special to me.
---

---